2019 Jaguar I-PACE Awards

The 2019 Jaguar I-PACE has made an immediate impact, to say the least. The all-new electric car from Jaguar won numerous awards at the 2019 New York International Auto Show in New York City.
This electric sport utility vehicle swept the World Car Awards given out at the show, winning best design, best green car, and best overall vehicle. This is a model Marlboro, Englishtown, and Freehold drivers shouldn't miss out on. Visit Ray Catena Jaguar Marlboro, and you'll be able to see this award-winner for yourself.
View the new Jaguar I-PACE here!
Your Big World Car Awards Winner: The Jaguar I-PACE
The World Car Awards are voted on by 86 journalists from over 20 countries. These reporters drive dozens and dozens of cars each year to determine the best vehicle out there. The I-PACE went through multiple rounds of voting, and was the winner in a field of over 35 cars.
The I-PACE is a luxurious crossover, which brings together the Jaguar performance and design you've come to know with the future of all-electric technology. The I-PACE was also awarded the World Car Design of the Year, with its crossover design and sporty styling giving it the edge over the other vehicles in the category.
Read the full 2019 Jaguar I-PACE review here!
Owning an Electric Vehicle
This is a new kind of experience for many drivers. Motorists across America are beginning to discover the benefits of electric vehicles. Not many electric vehicles carry the kind of performance, styling, and features that the luxury 2019 I-PACE has.
With a range of 234 miles, the I-PACE can go long distances. You have options when charging at home, too. The I-PACE comes with a 7 kW AC on-board charger, which can charge the car overnight when paired with a Jaguar home charger. It's also possible to plug into a domestic socket, which will take a bit longer, but is typically enough to cover your average 30-mile commute when properly charged overnight.
The I-PACE is no slouch on the roadways, either. All-wheel-drive and the instant torque delivery can get you from 0 to 60 MPH in a speedy 4.5 seconds. The electric motors deliver 394 horsepower and 512 lb-ft of torque.
Apply for Jaguar Financing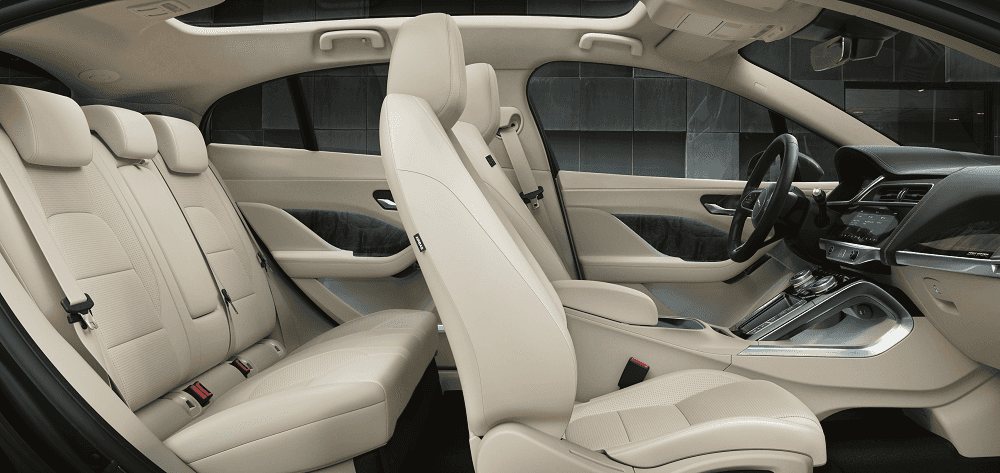 It takes only a few minutes, but applying for Jaguar financing online can save plenty of time spent filling out paperwork here at the dealership. We'll also be able to start working on loan or lease terms here at the dealership prior to your first visit.
There are advantages to both loans and leases. We'll be sure to explain the advantages of both to our dedicated customers. Have any questions for our financial professionals? We'd love to hear from you, whether it's a question about a lease, or even about trading in a car you currently own.
Go Electric With the 2019 Jaguar I-PACE
Now that you've had the chance to read all about this award-winning electric car, stop by the Ray Catena Jaguar Marlboro showroom to see it in action. We're proud to serve Marlboro, Englishtown, and Freehold drivers, and are excited to show off the all-electric 2019 Jaguar I-PACE to you.
Contact us online to schedule a test drive today!